"Laos cave fossils prompt rethink of human migration map."
Views expressed in this science and technology update are those of the reporters and correspondents.  Accessed on 14 June 2023, 2009 UTC.
Content provided by email subscription to "Nature Briefing."
Please click link or scroll down to read your selections.  Thanks for joining us today.
Hello Nature readers,
Today we delve into evidence that early humans migrated through Asia earlier than previously thought. Plus, we learn that magnetic minerals could explain the biological bias for 'left handed' or 'right handed' molecules. And we hear how researchers are making experiments more natural in order to decode the brain.
Researchers in the Tam Pà Ling cave in northern Laos laboriously sifted through clay, bucket by bucket, using their fingers to hunt for bone fragments. 

(Fabrice Demeter)
Two human bone fragments — from a skull and a leg — have been unearthed in the Tam Pà Ling cave in Laos. The fossils are older than previous finds from the cave and suggest that early modern humans were in the area up to 86,000 years ago. That's earlier than previously thought, and calls into question hypotheses that Homo sapiens dispersed out of Africa and through Asia in a single rapid event that happened after the ending of a geological period 80,000 years ago. "I can't overestimate the importance of having another point on our map for early modern humans in southeast Asia," says anthropologist Miriam Stark. "Understanding southeast Asia is critical to understanding the world's deep history," she says.
Nature | 5 min read
Reference: Nature Communications paper

Magnetic minerals that were common on ancient Earth might be why nature shows a preference for the 'left handed' or 'right handed' versions of certain molecules that are essential for life. Some molecules have two mirror-image 'chiral' forms, and biology chooses just one: DNA, RNA and their building blocks are all right-handed; amino acids and proteins are all left-handed. Researchers found that magnetic minerals could have created an early surfeit of one-handed versions by causing more of one type to settle on their surfaces, kicking off the biological bias towards a single chiral form. "It's a real breakthrough," says origin-of-life chemist Jack Szostak. "Homochirality is essential to get biology started, and this is a possible — and I would say very likely — solution."
Science | 6 min read
Reference: Science Advances paper

Moths are the unsung heroes of pollination in cities, accounting for one-third of pollinator visits in a study of moths and bees in Leeds, UK. "The whole reason why they're overlooked is because bees, you see them in the day, but moths are obviously out at night," says pollinator ecologist Emilie Ellis. Her team collected bees and moths in the city and examined the DNA of the pollen that they carried. Not only did the moths have a bigger role than expected, but the insects' preferences differed: bees visited more wildflowers, whereas moths chose woody plants, such as trees and shrubs.
Wired | 6 min read
Reference: Ecology Letters paper

Neuroscientists are creating more naturalistic experiments to achieve a more nuanced understanding of animal — and human — behaviour. Some of the laboratory experiments that have been used for decades — such as training a mouse to push a lever to get a reward — require teaching an animal to complete specific, idiosyncratic tasks. The end result is like studying a "professional athlete", says neuroscientist Tiago Branco. Armed with the latest technologies for brain imaging and movement tracking, researchers can now look at the natural and spontaneous behaviour of mice to glean holistic lessons that are more relevant to everyday activity.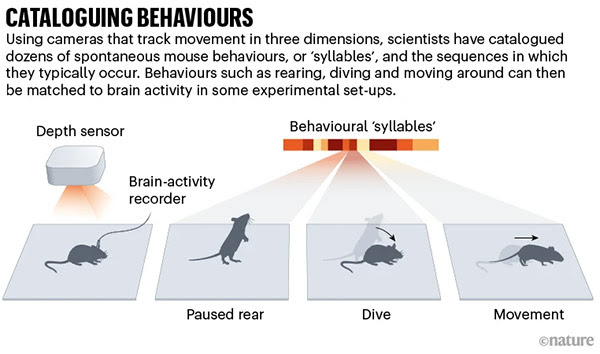 Nature+ gives you immediate online access to Nature and 54 other journals. Nature+ is a flexible monthly subscription and is currently available only to personal users in the United States and in the United Kingdom.
Polymath Thomas Young, born 250 years ago this week, originated a demonstration that still has scientists scratching their heads: the double-slit experiment. Originally designed to show that light is a wave, later versions of the experiment showed that light in fact acts like both a particle and a wave. In some instances, light switches suddenly from one to the other, depending on how it is observed. Quantum theory provides a mathematical explanation for the findings, but it's still unclear what this means for the nature of physical reality. One possible answer is that light, and indeed all the fundamental components of the material world, have no reality at all until they are detected.
The screws are turning on fossil fuels in the United States. Under a proposed rule, fossil-fuel power plants will need to drastically reduce their carbon footprint, which effectively mandates the use of carbon-capture and storage technology. Many coal-fired power plants will probably close down instead of complying with the Environmental Protection Agency's proposed regulation. Many jobs will be lost, and others created. "Managing the social costs of the clean-energy transition must remain a priority in the United States, and worldwide," argues a Nature editorial. Still, in the end, "everyone will all be better off for it".
The Kīlauea volcano in Hawaii has burst to life again. The eruption is so far confined to the Halemaʻumaʻu crater at the volcano's summit. As one of the most closely monitored volcanoes in the world, it is studded with cameras and instruments that measure ground deformation and seismic activity. (Nature | 2 min read) 

(United States Geological Survey/Handout/Anadolu Agency via Getty)
QUOTE OF THE DAY
"I felt some satisfaction in this situation because up to this moment, several colleagues had ridiculed our research, saying, 'Everyone knows that warts and papillomaviruses are harmless.'"In a 2019 article in Annual Review of Virology, Harald zur Hausen recalls his Nobel-prizewinning discovery of the link between human papillomavirus and cervical cancer. He has died, aged 87. (The New York Times | 5 min read)
You received this newsletter because you subscribed with the email address: kh6jrm@gmail.com

Please add briefing@nature.com to your address book.

Enjoying this newsletter? You can use this form to recommend it to a friend or colleague — thank you!

Want to switch to the weekly edition? Update your preferences.

Had enough? Unsubscribe from the Nature Briefing.

Fancy a bit of a read? View our privacy policy.

Forwarded by a friend? Get the Briefing straight to your inbox: subscribe for free.

Want to master time management, protect your mental health and brush up on your skills? Sign up for our free short e-mail series for working scientists, Back to the lab.

Get more from Nature: Register for free on nature.com to sign up for other newsletters specific to your field and email alerts from Nature Research journals.

Would you like to read the Briefing in other languages?

Sign up for the weekly round-up e-mail in Arabic, curated and translated by the editors of Nature Arabic Edition.

هل تود أن تقرأ هذا الموجز باللغة العربية؟ سَجِّل الآن لتصلك نشرة العلوم الموجزة أسبوعيًّا، التي يختار محتواها ويترجمه فريق محرري "نيتشر الطبعة العربية".

Follow Nature Portfolio on WeChat for a weekly round-up post in Chinese, curated and translated by our team in China.

关注Nature Portfolio官方微信订阅号,每周二为您推送Nature Briefing精选中文内容——自然每周简报。
Nature | The Springer Nature Campus, 4 Crinan Street, London, N1 9XW, United Kingdom
Nature Research, part of Springer Nature.
© 2023 Springer Nature Limited. All rights reserved.